BloomReach Experience V12.5 & Hippo CMS V12.5 Release Notes
Hello all, happy to announce that we have released a new version of BloomReach Experience and Hippo CMS. This minor release introduces new functionality and improvements.
Please note that due to our release policy the release of the open source Hippo CMS will follow in about six weeks.
BloomReach Experience and Hippo CMS - Highlights
What's new for end users
SMALL BUT VALUABLE UX IMPROVEMENTS
Create content flow
The 'CONTINUE' button on the first step of the create-content flow (in the channel manager) was renamed to 'CREATE'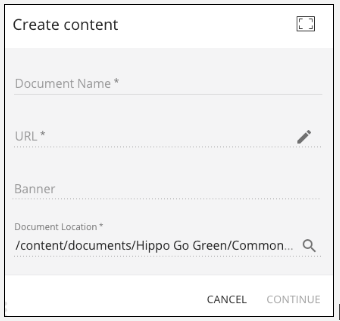 This change was made as we found, during a user-testing session, that the label 'CONTINUE' did not give a strong enough indication as to what would happen next in the flow. The label 'CREATE' reaffirms that the next step will likely allow the creation of content.
Manage content buttons


Previously the 'dial buttons' which appeared when a user hovered over the orange edit-content button were white.
The dial-buttons are now orange. This change was made as we found, during a user-testing session, that the white buttons were not prominent enough to be noticed or were perceived as being less important than the orange edit-content button.
Component configuration dialogue

Previously, within the component-dialogue box, clicking the 'Delete' button would erroneously lead users to accidentally delete the relevant component, when perhaps the intention was to delete a component variant.
To support in preventing this we have renamed the button to 'Delete Component'

Selecting a segment for a component variant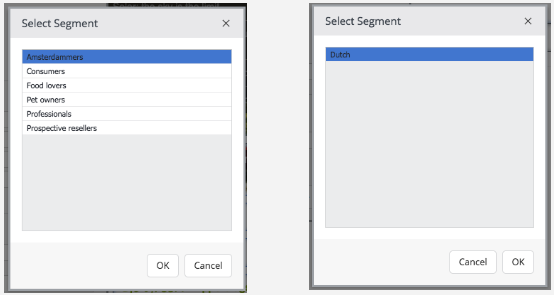 The lightbox on the left shows the previous button positioning; 'OK' and 'Cancel'. The lightbox on the right shows the new button positioning; 'Cancel' and 'OK'. This change was made to support consistency across the UI; the consistency being that the affirmative action should always be on the right.
Adding type information to link picker dialogues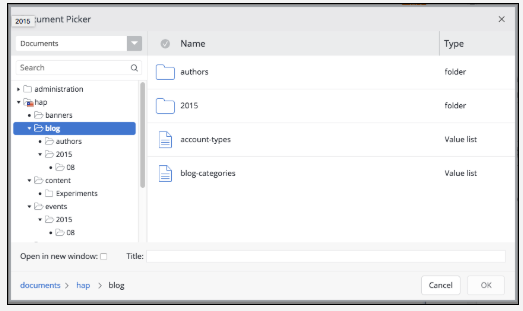 Document link picker dialogues now have an additional column called 'Type'; data in this column reflects the type of content within a folder. This is especially useful for clients which mix different types of content in a single folder.
What's new for developers
Single rebuild
Over the past few months, several Essentials Features/Plugins have been refactored or improved to no longer require a double rebuild-restart cycle when installing them. This release addresses the remaining 3 features which still required such a double cycle: the 'URL Rewriter' plugin, the 'Robots.txt' plugin and the 'Poll' plugin.
With this change, no out-of-the-box Essentials plugin requires a double rebuild-restart cycle anymore.
DirectoryInstruction: copy action
When developing Essentials Plugins (in order to automate adding a new feature to a BloomReach Experience project) the plugin installation triggers a set of installation instructions to be executed on the BRE project. In the past, a <directory> instruction has been added to the set of supported types of instructions, in order to copy an entire directory of files into the project sources, rather than copying the files one-by-one, or to delete an entire directory from the project sources.
The copy mechanism of this instruction did not work well and this is what has been fixed in this release.
Wicket, Angular and CKEditor upgrades
To stay up to date, Wicket, Angular and CKEditor were upgraded to the latest minor versions, 6.29.0, 6.0.0 and 4.9 respectively.
Visitor cookie customization
The BloomReach Experience Relevance engine uses a "Visitor Cookie" to identify a visitor, i.e. to correlate page requests from the same visitor into visits. Likewise, BloomReach Personalization's Pixel integration uses a cookie to identify a visitor.
Originating in different products, the names of these cookies used to be different. With this release, the name of the Experience Relevance Visitor Cookie can be configured to match the name of the Personalization Visitor Cookie, such that a single cookie is used for both mechanisms.
Minor release
V12.5 is a minor release so it is backwards compatible with the previous minor release. Also, updating to this version from the previous minor version should be of little effort. Furthermore, due to our higher release frequency for minor releases, this might not be the final minor release in the major version 12 range.
System support and requirements
The full system requirements can be found here: https://www.onehippo.org/library/about/system-requirements.html.
End-of-life and support
Please note that this release triggers the end-of-life status of V12.3. This version will not be supported anymore as from today.
In the table below you can find the support status of your product and when support will end; this is dependent on the version currently being used and license level. Please note that versions that are not listed are not active and not supported.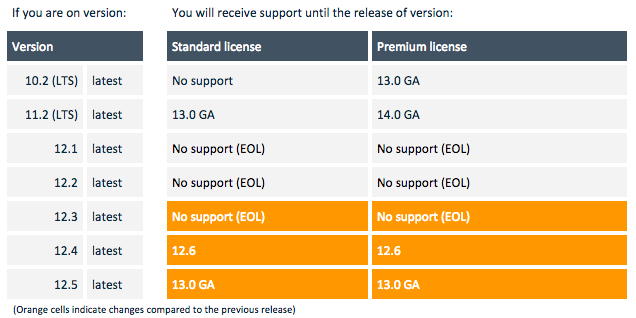 Pre-announcements
Please note that we intend to drop support for Windows Server 2012 and Windows Server 2012 R2 around September 2018 as these products will be end-of-life (mainstream support) by then. We will support Windows Server 2016 from that time onwards.

As of V13.0, Essentials will only provide Freemarker templates out-of-the-box. JSP templates remain supported but will need to be custom written.

We are in the process of planning the introduction of support for JVM 11.
Availability
BloomReach Experience 12.5 is available as from August 23, 2018