Bloomreach Experience Manager V15.1.0 Release Notes
Highlights for v15.1
We are pleased to announce a new version of Bloomreach Experience Manager (brXM). This minor release introduces new functionality and a number of useful improvements to the product. In this document we will give a brief overview of the highlights in this release. You can also find these release notes at: https://xmdocumentation.bloomreach.com/about/release-notes/release-notes-overview.html.
Please note that as a result of our security release policy the public availability of the community source code and artifacts for all active releases will follow in about six weeks. Customers however, have immediate access to these new releases at the release date.
Everything mentioned in this document is an integral part of Bloomreach Experience Manager (brXM), unless mentioned otherwise.
Key New Features
Cross-geo hosting support for fast sites worldwide
The Content Replication module is a solution for automatically distributing content changes from an authoring environment to a separate hosting cluster for live site delivery. It is now possible to run multiple geographically-distributed hosting clusters as separate replication targets, to improve response times for site visitors around the world. This is in addition to our existing support for delivery via CDN. Content editors manage the content for multiple geo's from a single central authoring environment.
The GUI dashboard has also been updated to support multiple targets and perform actions for each target independently: initiate a full or partial data sync, pause and resume automatic replication, and monitor operational error messages.
Configurable help menu links
Help menu links allow users to quickly go to the brXM documentation site. Now they are configurable. The name and URL of the help menu links can be changed per environment. So customized documentation links can now be set based on your own internal documentation links. There is also an option to keep the links as Bloomreach Documentation by default or to hide the help menu link and name completely.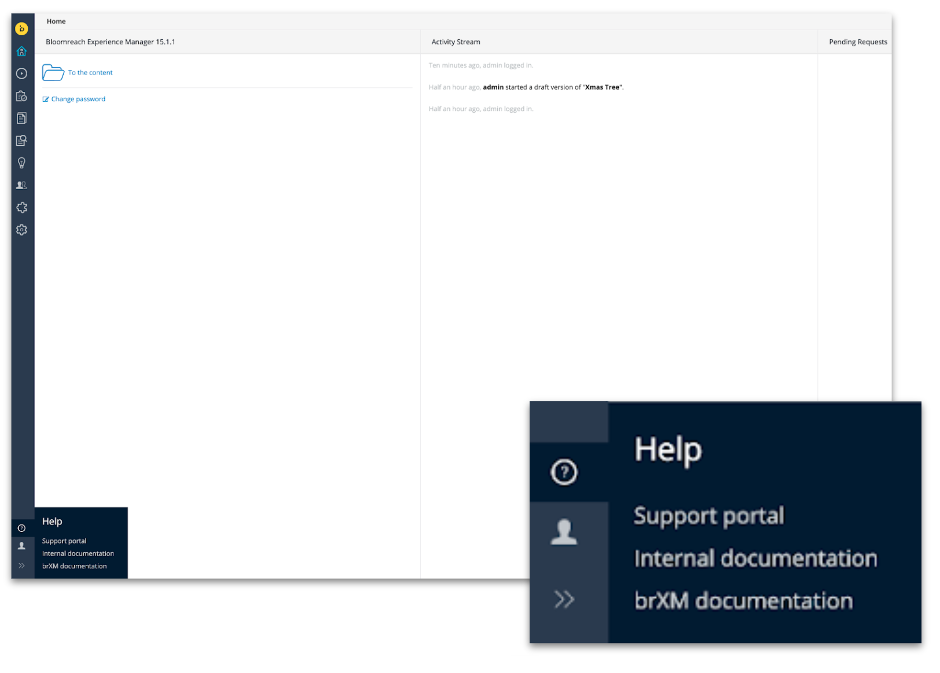 Ongoing Improvements
For end users
Several interactions have been improved for the visual editor like the behavior of drag and dropping, read only fields, refreshing the preview in the experience manager, and switching between editors.
Channel sorting is now case-insensitive.
In the taxonomy plugin, the key information is now shown as expected.
The content Blocks compound labels are now displayed correctly when being added to a project.
For developers
Developers now have more customization options to control the folder where a link picker will start, immediately after an editor clicks to add a new link. Especially when working with multiple pickers in a single document, the default folder can now be set per picker.
Users can now login with lowercase or uppercase without problems that were observed in certain LDAP set-ups.
Commerce React Components variables have been renamed from "sm" to "discovery" to reflect the current Bloomreach search product name.
Writing Groovy updater script log messages to the content repository can now be enabled again by setting a system property.
The name of a root component and reference name can now be the same.
Notices
There are no notices
Minor release
v15.1 is a minor release so it is backwards compatible with the previous minor release. Also, updating to this version from the previous minor version should be of little effort. Specific upgrade instructions for this release can be found in our documentation [1] for enterprise customers (requires a login). An overview of all upgrade instructions for minor versions in this major release can be found in our documentation [2] as well.
Supported Technologies
The full system requirements can be found in the online system requirements [3]. This page also includes a detailed table of maintained third party compatibility.
End-of-life, support and maintained code
Nomenclature refresher
As the terms 'end-of-life', 'supported', 'maintained' are used in various ways in our industry, we clarify the nomenclature we use for this below.
Supported product version
When a product is supported, this means that the customer will receive help from the helpdesk when issues arise as described in the service level agreement (SLA) that the customer has with Bloomreach. There are several service levels available.
Please note that if a bug is acknowledged in a supported, but not-maintained version, and a fix is needed, this fix will only be applied in the maintained product versions. This means the customer will need to move to a maintained version to receive the fix.
Maintained product version
When a product is maintained, the product code is updated and security- and bug fixes are made to the code. For maintained products, the system requirements for third party libraries and components are kept updated as well. Please note that we do not provide support for system requirement providers (e.g. databases, Java, etc..), but we only support the usage for mentioned certified system requirement providers.
If a product is non-maintained, this means that the code is not maintained anymore and therefore might contain bugs and/or security vulnerabilities due to newly discovered issues in our code, or the libraries used.
End-of-life product version
Products that are not maintained and not supported are end-of-life. These might be available from our archives but could be removed without notice.
What does this mean for the current release?
Please note that this release changes existing maintenance or support modes. In the table below you can find the support status of your product and when support will end; this is dependent on the version currently being used and license level. Please note that versions that are not listed are not active and not supported, and therefore end-of-life.
| Version | Planned end date of Standard Support | Planned end date of Premium Plus Support | Original major version release date |
| --- | --- | --- | --- |
| 12.6 | No Support | No support | July 2017 |
| 13.4 | April 2022 | April 2023 | Jan 2019 |
| 14.7 | April 2023 | April 2024 | Dec 2019 |
| 15.0 | April 2024 | April 2025 | April 2022 |
| 15.1 | April 2024 | April 2025 | April 2022 |
Figure: reference table of planned end of support dates based on current SLA terms. Supported versions may differ depending on contractual agreements.
Security notes
This release includes updates for 3rd party dependencies that have published vulnerabilities. It also includes fixes for medium-severity issues identified in the product itself. These issues will be disclosed to customers separately, and publicly in 6 weeks. We recommend that customers keep their systems up to date with announced product releases.
Availability
This version of brXM is available as of June 29th, 2022 onwards, the release of the open source will be made available after approximately six weeks due to our release policy.
Links
[1] https://xmdocumentation.bloomreach.com/library/upgrade-minor-versions/upgrade-15.0-to-15.1.html
[2] https://xmdocumentation.bloomreach.com/about/upgrade/introduction.html
[3] https://xmdocumentation.bloomreach.com/library/about/system-requirements.html