Rename and/or Move a Page
Introduction
Goal
Rename and/or move an existing page in a channel.
Background
Pages which have been added through the channel manager can be moved or renamed. A page can be renamed and moved at the same time.
Rename and/or Move a Page
Select the channel that contains the page you want to rename and/or move.
Click on Edit:

Click on Page:

In the menu that appears, click on Move: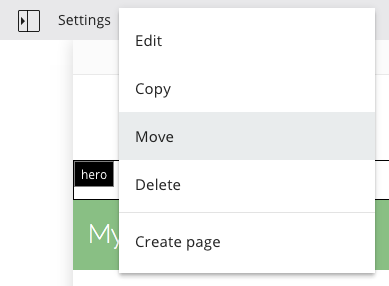 The Move page form will appear:

Use the URL dropdown to move the page to another location.
Use the Last element text box to rename the page.
Note that if a page has child pages (nested URL), the child pages also change their URL when you move or rename the page. Also, note you cannot move a page below itself.