The requests overview dashboard
Bloomreach offers Enterprise support for this feature to Bloomreach Experience customers. The release cycle of this feature may differ from our core product release cycle.
When the dashboard is installed (see Installation), a CMS user sees a new left hand side perspective 'Translations'. It shows an overview of all translation requests in the repository: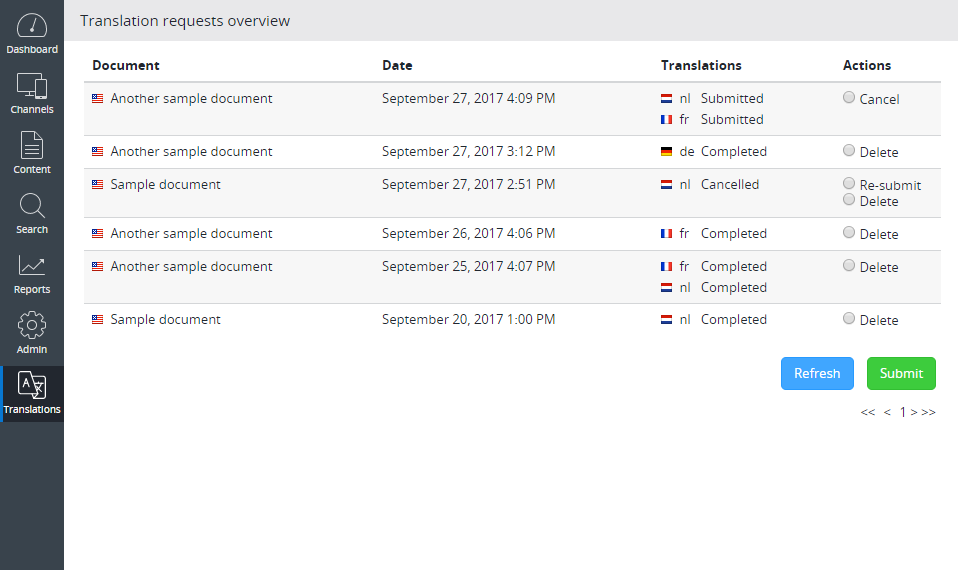 Besides giving a document based overview of the requested translations, one or two actions are available, dependant on the request status.
Cancel shows if the translation request is submitted to the external system and has not come back yet.
The action will call the external system to cancel the request.
Re-submit shows if a translation request has been cancelled earlier.
The action will do a new transaltion request for the document in the target language(s) involved.
Delete shows if the translation request has been cancelled earlier, or if it is completed, i.e. has come back from the external system.
The action will not call the external system but delete the request from the Hippo repository.
Note: the Cancel (and therefore also the Re-submit) actions are not available if the configured connector does not support cancellations, e.g. the LiveWords connector.