Publish a Document
A document can be off-line, live or changed (pending review and re-publication). The publication state of the document is expressed through an icon in the "State" column of the Documents Area of the Content Perspective:
Document States
| | | |
| --- | --- | --- |
| | Offline | This document is currently not published, you cannot access it through the website. |
| | Live | This document is currently published and you can access it through the website. |
| | Changed | A published (previous) version of the document is accessible on the website, but the document has been changed and a newer version is waiting to be published. |
When a new document is created, it enters the Offline state. Authors can request publication from users that have editor privileges or higher.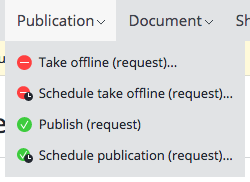 The publication request then shows up in the todo-list of the editor. Editors can review the changes and approve them, publishing the document to the website. The document's state is now Live. Editors can create documents themselves, which they can publish directly.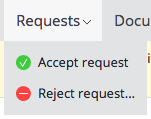 When a published document is adjusted, it enters the Changed state. In this state, the old, published and unchanged version of the document is still visible on the website, while the new, changed version is visible in the Document Viewer and the Channel Manager's preview. In this state, the Document Viewer highlights the changes compared to the previous live version. The changes get published to the website when the editor (re-)publishes the document.