Copy a Page
Introduction
Goal
Make a copy of an existing page in a channel.
Background
Page can be copied in the channel manager within and between channels. Only copying within the same channel is enabled by default. Copying from one channel to another can be enabled by an administrator.
Both editable and non-editable pages can be copied. A copy of a non-editable page will be editable.
Copy a Page within the same Channel
Select the channel that contains the page you want to copy.
Click on Page:

In the menu that appears, click on Copy: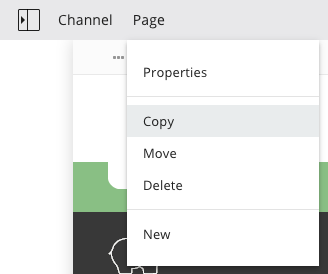 In the Copy page form appears, enter the last element of the URL for the new page:

Optionally, you can select a different Destination URL (parent location). The Destination URL dropdown contains all locations to which the page can be copied. If a Destination URL is selected that is locked by another user, the copy action will fail with a message explaining who locked the target.

Copy a Page from one Channel to another Channel
By default, pages can only be copied within the same channel. Copying pages from one channel to another is optional and can be enabled by an administrator.
If this option is enabled the Copy page form will contain an additional dropdown Destination channel: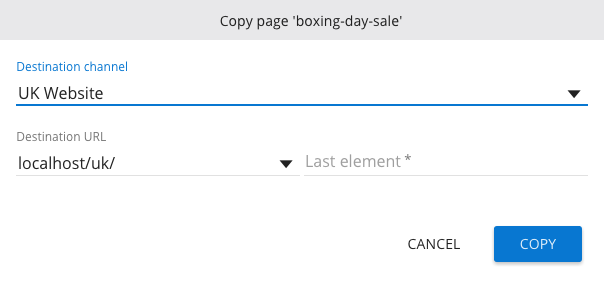 What happens if I copy a page to another channel but the target channel does not have all the configuration (templates, components) required for the page?
In that case, the system makes sure to also copy over any required template or component.
Locking
A copied page is locked by the current user until they publish their changes.