Text Find & Replace Plugin
Bloomreach offers Enterprise support for this feature to Bloomreach Experience customers. The release cycle of this feature may differ from our core product release cycle.
Introduction
Text Find & Replace Plugin allows content authors to be able to find and replace texts of documents in Advanced Search Bulk Workflow Action Operation UI.
Example Demo Implementation Scenario
A project can install this plugin to perform batch text find & replaces on CMS documents like the following example:
Log onto CMS and select Document search application.
In the search text field on the top area, search for "breakfast" for example.
Select some documents or all the documents from the search result.
Select the Perform Action / Find and Replace... menu item on the top right corner.
Note: before version 2.1.0, this was a separate menu Text Replaces / Find and Replace Text.
Enter "breakfast" in the "Find" text field, uncheck the "Case sensitive" checkbox, and enter "Lunch" in the "Replace" text field as an example.
Click on "OK" button.
Check the document(s) to see if the document name or other text fields were updated as intended.
Demo Project
You can download a specific version of the demo project to build and test under this location:
After downloading and extracting it, you can build and run the demo project, using mvn clean verify && mvn -P cargo.run.
Now, visit http://localhost:8080/cms/.
Screenshots
The screenshots are from version 2.1.0 for Bloomreach Experience Manager 14.7. Earlier versions are slighly different.
You can find the Perform Action / Find and replace... menu on the top right corner.

Enter what to search, what to replace with, etc.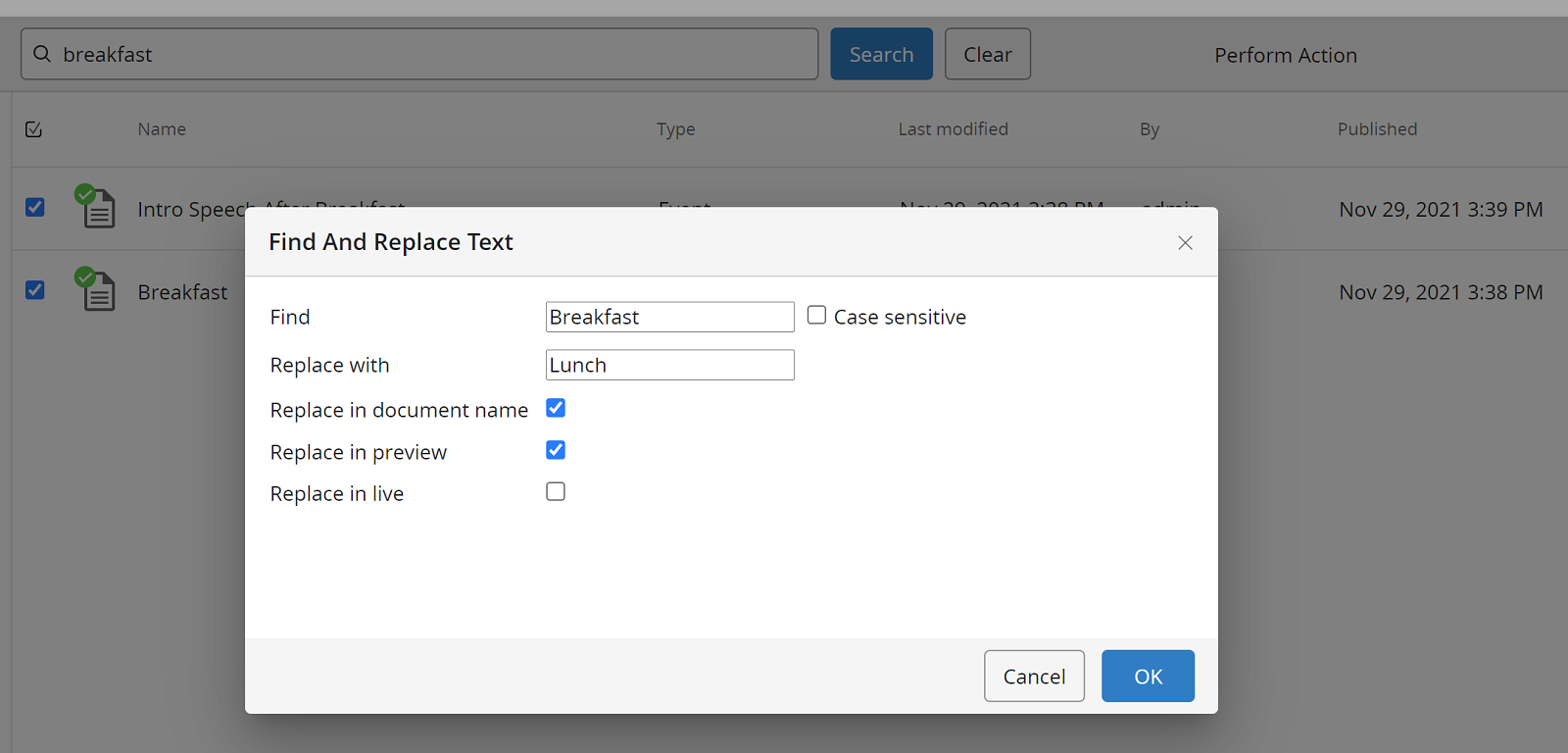 Check the documents to see if the changes were made properly.