Open UI Page Tools
It is possible to extend the UI of Bloomreach Experience Manager with extra tools for pages in the Experience manager. Such a page tool is implemented as an Open UI extension. Tools are shown in the right side panel of the Experience manager inside an iframe. A JavaScript library is available that can be used for communication between the Experience manager and the page tool.
A page tool can, for example, show extra information about the page that is visible in the Experience manager.
Read more on how to configure a page tool and how to develop a page tool, and follow the Develop a Custom Page Tool tutorial.
By default page tools are available to users in the webmaster group.
When at least one page tool is configured, a new menu item appears in the Experience manager: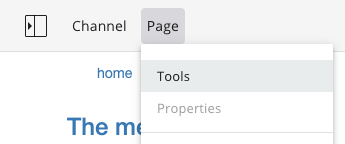 When selected from the menu, the tool(s) are shown in the right side panel: